Product information
People Counter – LoRaWAN
Elevate Your Data Insights
Our LoRaWAN People Counter is not just a device; it's your key to unlocking the future of visitor analytics. With straightforward installation, precise bi-directional counting, and GDPR compliance, it's a reliable and privacy-conscious solution.
Enhanced noise immunity ensures consistent performance, day or night, while long-lasting battery life keeps your operations running smoothly.
Don't Miss Out!
Upgrade your building, campus, or facility with the future of visitor tracking. Join the smart revolution with our LoRaWAN People Counter.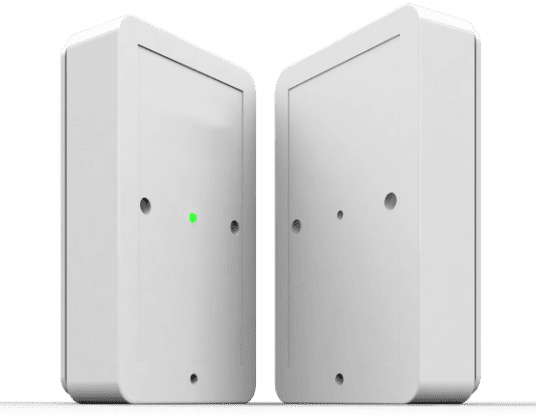 Key Features:
LoRa Alliance Certified: Ensuring top-notch quality and performance.
Easy Installation: Get up and running effortlessly.
LoRaWAN Communication: Reliable, secure, and efficient data transmission.
GDPR Compliant: Worry-free privacy – no GDPR concerns.
Battery Powered: Extended battery life for convenience.
Bi-Directional Counting: Precise entry and exit tracking.
Infrared Technology: Accurate detection, day and night.
Enhanced Noise Immunity: Consistent operation in diverse environments.
Seamless Installation: Quick and hassle-free setup.
Data-Driven Decisions: Unlock insights to optimize spaces.
Dashboard Compatibility: Works seamlessly with multiple dashboards, including our own cloud solution.
Seamless Integration
Connect effortlessly to various dashboards, including our own cloud solution. Visualize data, set trends, and optimize your spaces for peak efficiency.
Specifications
Power supply
2x 1.5V AA Alkaline batteries
IoT Communication
Class A LoRaWAN
IR Count Line
8 meter max.
Battery life
Approximately 1 year
Color / Material
White / ABS (Black covers optional)
Data availability
Requestable data history from server
Acknowledge per packet (configurable)
Payload header
IMBUILDINGS Payload type information
Sensor payload
Counter A (0-65535 relative count value)
Counter B (0-65535 relative count value)
Incremental Count (0-65535)
Frequently asked question (FAQ)
Yes, you can.
By using our Robust Housing you can place the People Counter in an outdoor situation.
This way the device is suitable for getting insights of footfall traffic on e.g. parks, nature and sporting facilities.
Business hours
Monday 08:30–17:00 Tuesday 08:30–17:00 Wednesday 08:30–17:00 Thursday 08:30–17:00 Friday 08:30–16:00 Saturday Closed Sundays Closed
Require help ?
Contact us
Sales Department
Info@imbuildings.com
Are you interested in more information about what we can do for you, please contact our sales department.
"*" indicates required fields